Newport Beach Bankruptcy Attorney - Orange County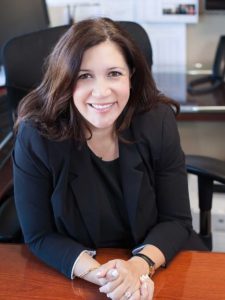 Newport Beach Bankruptcy Attorney - Orange CountyTamar Terzian
Tamar Terzian is a Newport Beach bankruptcy attorney serving Orange County clients with over 12 years of experience in bankruptcy matters, with unique experience in litigating the discharge of federal tax and state tax liabilities. Mrs. Terzian's prior experience includes working as a trial attorney in the Tax Division of the Los Angeles federal prosecutor's office and as a judicial law clerk to the Honorable Robert N. Kwan, United States Bankruptcy Judge for the Central District of California. In private practice, she has represented a variety of clients ranging from small business owners to large companies with over $100 million in assets. Mrs. Terzian holds the position of Counsel at the firm and focuses her practice on Chapter 11 cases.
Contact bankruptcy attorney Tamar Terzian at (949) 301-9829.
Due to Mrs. Terzian's time in the government and private practice, she has a reputation in bankruptcy courts throughout Orange County, Los Angeles, and Riverside as a competent, zealous, and sophisticated lawyer. Her former experience working under a bankruptcy court judge and representing the United States's interest in tax cases allows her clients to benefit from her unique insights necessary to resolve complex and important cases.
Areas of Focus
Financial restructuring
Chapter 11 bankruptcy
Discharge of federal tax debts and state tax liabilities
Litigation of preferential transfer and fraudulent transfer issues
Professional Affliations
Board Member and Officer - Southern California Bankruptcy Inns of Court
Member - Armenian Bar Association
Member - Commercial Law and Bankruptcy Section, Los Angeles Cty. Bar Assoc.
Member - International Women's Insolvency and Restructuring Confederation
Member - Women's Lawyers Association of Los Angeles
Member - Homes for Life Foundation
Admissions
Supreme Court of California
United Stated Bankruptcy Court, Central District of California
United States District Court, Central District of California
Education
University of California, Irvine (B.A.)
Western University of Michigan, Thomas M. Cooley Law School (J.D.)
Newport Beach Bankruptcy Attorney Office - Orange County
1451 Quail Street, Ste. 210 Newport Beach, CA 92660 Abogado Bancarroto
---