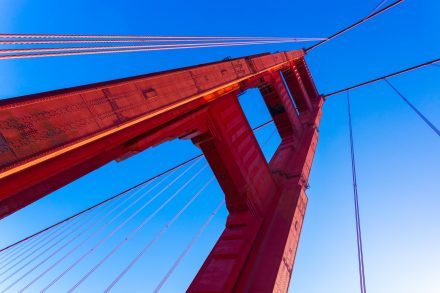 GGU MST: Why is the Golden Gate University Masters in Taxation So Well Known?
Golden Gate University has its main campus in San Francisco. But, Golden Gate University also has the most popular, based on my anecdotal observations, Masters in Taxation in Los Angeles and Orange County (Irvine). The GGU MST has satellite and remote programs in both locations. But, Golden Gate University's Masters in Taxation program also ranks surprisingly high in nationwide surveys regarding tax degrees. The latter success is likely due in large part to its well-regarded online MST, giving it further reach than most programs. In fact, the GGU MST was the number 1 most popular MS Tax program according to corporate in-house tax departments per taxtalent.com's 2016 Top in Tax Educational Survey.
With streaming and interactive apps, professionals and students are turning more to online learning programs and credentials. In years past, distance-learning programs either weren't as good or the programs were administered by less distinguished schools. They had, perhaps, intrinsic educational value and "check-the-box" value for those whose advancement was dependent on the mere existence of an advanced degree, but they had little value when compared to traditional in-person programs in a competitive job market – a factor that may change given 2020's current crisis, which could remove the stigma from online learning.
This had already started to change sometime in the 2000's when some traditionally in-person programs at universities began to offer some classes online, a hybrid of sorts. Eventually, some schools began to provide complete online degree curricula, including Golden Gate University's Masters in Taxation and NYU's Executive LLM Program.
The Golden Gate University Masters in Taxation Program Has Always Known Its Target Audience: Working Professionals
I attended Golden Gate University's in-person Master of Laws in Taxation program from 2005 through 2006. Golden Gate University has always had a special focus within the San Francisco area on working professionals who were looking to advance their professional education or for a career change. Golden Gate University's origins were, I believe, a book club that started in a local YMCA. Whether that is true or not, for many years it focused on evening courses and part-time programs for local professionals. It has only a few programs, business, accounting, law, and taxation.
With its focus on accessibility to and the education of working professionals, it should be no surprise that GGU was ahead of the curve in online education. If it wasn't the first to offer the entirely online curricula for the degree, it is probably the most popular and respected online degree for the Masters in Science of Taxation (MST, which is distinct from the Master of Laws in Taxation as it is not a legal degree). The online program is well known for being challenging. In addition, the program, from what I have heard, meets its goals of providing a quality and meaningful education.
As I commented to an acquaintance recently, GGU is one of the few schools where I might say the reputation of the school is stronger outside of its geographic region than it is within the region. Within the bay area there are several strong schools that will likely forever overshadow GGU for prestige (though, education and accessibility are GGU's goals – not prestige), including Stanford, UC Berkeley, and UC Davis. But, the internet is something of an equalizer for all businesses who deliver the real deal, including schools. Accessibility and education are prime factors in deciding what online programs to choose.
The GGU MST Punches Above Its Weight Due to Location and Access
It should be noted, though, that Golden Gate University has always punched above its weight in the area of taxation. Being located in the financial district of San Francisco, it is walking distance to KPMG, Ernst Young, PWC, and other well-known tax and accounting firms. As a result, working professionals are not only its students but its teachers. Perhaps some of the same factors that led to NYU's tax program being so prestigious are responsible for GGU's increased tax credibility, as both schools serve high-end professionals in some of the best cities in the U.S. When those professionals continue their upward trajectory, they increase the visibility and perception of GGU's tax degrees.
Blog Posts On This Topic Include:
Is Getting a Tax LLM A Good Idea? Part 1: LLM Programs Grew More Competitive…
Is Getting A Tax LLM A Good Idea? Part 2.1: Is It Worth the Cost?
Is Getting a Tax LLM a Good Idea? Part 2.2: Benefits of a Tax LLM After Your First Job
Is Getting a Tax LLM a Good Idea? Part 3.1: Ranking the Top Tax LLM Programs
Is Getting a Tax LLM a Good Idea? Part 3.2: Ranking the Top Tax LLM Programs – Update (2017)
–Daniel W. Layton, the author of this post, is a former IRS trial attorney and former Federal prosecutor who was tasked with handling criminal tax prosecutions and civil litigation including tax refund suits, lien enforcement and foreclosures. As a tax attorney in private practice in Newport Beach, he uses his knowledge of IRS procedures and rules to keep the IRS in check and protect his clients' rights. He may be contacted at (949) 301-9829.
Updated 2020/04/05.